Walking with Giants: A Mount Etna Tour
Rising from the landscape of Sicily, Mount Etna's colossal figure continues to attract countless visitors.
Many visitors choose to observe the imposing appearance of one of Italy's tallest mountains by joining a Mount Etna tour. This allows them to come face to face with one of the world's most astonishing natural wonders. Visible from almost any point on the Mediterranean island of Sicily, a Mount Etna tour lets visitors explore an icon on the eastern coast of Sicily.
A milestone for Mount Etna – one of Italy's active volcanoes – was its listing as an UNESCO World Heritage Site in June 2013. Simply viewing Mount Etna and standing before its natural beauty makes it easy to understand why it made the list. Its colossal peak reaches a height of 3,329m, towering over Italy's other famous volcanic mountain, Mount Vesuvius, which can be found on the Gulf of Naples. Comparatively, Mount Etna is a staggering two and a half times taller than Mount Vesuvius. 
More than just looks
In addition to its striking visuals, Mount Etna also holds important scientific value due to it being an active stratovolcano. Those keen to learn more about the local flora and fauna may be interested in a Mount Etna tour with one of our nature experts. Numerous species of birds, small mammals and dense shrubbery can all be seen relying on the volcano for sustenance. Aside from its interest to ecologists, numerous space scientists have also journeyed to Mount Etna to study its unique landscape, which provides a mimic for the surface of Mars.
Aside from the travelling scientists, Mount Etna welcomes a steady stream of visitors from across the globe, including more local destination like the city of Catania (south of Etna) and the local town of Taormina (east of Etna). Those interested in a Mount Etna tour find the island of Sicily an ideal holiday destination. Holidaymakers travel to Sicily for many reasons but the Mediterranean climate and sun-kissed beaches are sure to keep them there. This is because of Sicily's location in the Mediterranean Sea, which features a radiant climate its visitors adore. Between the lavish climate and its lush flora and fauna, Mount Etna continues to attract a global audience.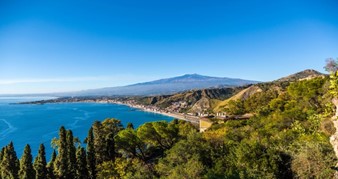 Traverse across history
If you'd like to embark on an adventure to Sicily's tallest mountain, consider a Mount Etna tour that offers the possibility to traverse the mountainous behemoth. Beginning in the local town of Taormina, you can take a gentle walk across the foothills of Mount Etna, bearing witness to the breath-taking views of the landscape. As our tour takes you across the Rifugio Sapienza region, the southern point of Mount Etna, you'll also get a chance to see the famous Monti Silvestri Craters. Our tour, taking approximately 3 hours, is ideal for anyone who wants to be astonished by the stunning views offered by Mount Etna.
If you'd prefer to take your time and spend the day soaking in the sun and immersing yourself in the striking scenery, then our day tours are for you. These depart from the city of Catania, taking you on a once-in-a-lifetime journey so close to the mountain that you'll feel the warmth of the volcanic rocks. From Catania, you can visit the Rifugio Sapienza and walk up to 3350 meters, affording you a magnificent view of the island.
Alternatively, we offer relaxed wine-tasting tours. These are ideal for anyone hoping to explore the beautiful vineyards across the foothills of Mount Etna. The wine produced here is some of the finest Italy has to offer and serves as a perfect accompaniment to the scenic views of Sicily.
If reading about Mount Etna has piqued your interest, be sure to get in touch with one of our experts. We offer tailor-made Sicily holidays for any occasion. Call us at 01223 637331 or submit an online enquiry here. We typically respond with a personalised quotation within 24 hours.
Search Keywords
Enter keywords below to perform a search within the events to find more relevant posts