Sicily's Best Wine Regions
In recent times, Sicily has been more widely recognised by experts as an up-and-coming wine region thanks to the significant positive changes in the quality of Sicilian wines. With the promise and potential of the island's interesting vineyards and wineries, critics are raving about Sicily's best wine regions.
While Sicily has been a cornerstone of Mediterranean viniculture for centuries, the quality of its wines suffered in the late 20th century, when the Italian government offered subsides for wine-makers willing to upgrade to what the government considered to be higher-yielding production methods, including the tendone and guyot vine-training methods. Unfortunately, the resulting wines were often imbalanced and lacked flavour, and Sicilian wines consequently fell out of favour. However, this move toward tendone and guyot methods is now being reversed and, once again, refined and high-quality Sicilian wines are being produced in Sicily's best wine regions.
Ironically, Sicily has traditionally benefitted from high grape yields without the need of specialist methods as the island's sunny climate and moderate rainfall offer the perfect conditions for the vines. In addition, the warm weather and refreshing coastal breezes mean that Sicilian vines traditionally suffer less from mildew and rot, meaning that chemical sprays are not often required and Sicilian wines are, for the most part, naturally organic.
As a result of the return to traditional wine-making methods, Sicilian wine has found itself in the spotlight once again. If you're considering a wine tour of Sicily but are unsure which regions to visit, here are some of Sicily's best wine regions and the wines that you must try while on your Sicily vacation.
Sicily's Best Wine Regions: East Coast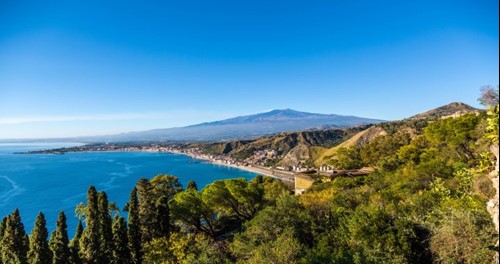 The eastern shores of Sicily are dominated by the epic Mount Etna, which is Sicily's resident stratovolcano. The soil around Mount Etna is mineral-rich and this characterises the Etna DOC wine, such as Etna Rosso, which is the most commonly produced wine here, one of Sicily's best wine regions. This wine is made with Nerello Mascalese grapes, along with Nerello Cappuccio, contrasting with the Etna DOC white wine (Etna Bianco), which is made primarily with Carricante and Catarratto grapes. The latter is the most widely planted white grape in Sicily.
If you would like to enjoy the wines from Mount Etna or see the Etna DOC vineyards, we highly recommend staying in either Catania or Taormina, which both lie at the foot of this iconic volcano. Both towns sit on the coast, offering sublime sea views that can be thoroughly enjoyed with a glass of fine Sicilian wine.
As well as Mount Etna, the eastern shores of Sicily are home to the Iblei Mountains. The lower slopes are decorated with vineyards that produce DOC wines, such as Moscato di Siracusa (made from Moscato Bianco grapes) and Moscato di Noto (which has a classic Moscato bouquet). This area - one of Sicily's best wine regions - also produces rose wines from Eloro (made from local grapes, such as Nero d'Avola) and Cersuolo di Vittoria, which has a DOCG status. If you would like to sample some of these iconic wines, we recommend staying in Syracuse on the coast, where you can also enjoy ancient attractions and architecture, such as Ortygia, the Ear of Dionysius and the Fountain of Arethusa.
Sicily's Best Wine Regions: West Coast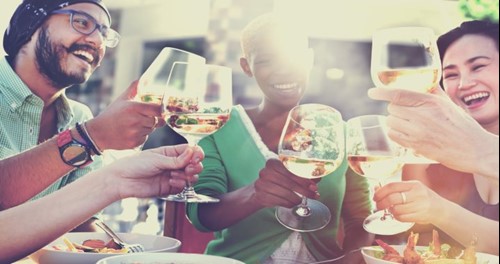 Although the west coast of Sicily doesn't have Mount Etna dominating the scenery, the soil is still dark in colour and mineral-rich. This again characterises the wines of this part of the island - another of Sicily's best wine regions. The area is separated into a number of DOCs, although the most dominant wine type is the Marsala DOC.
For a diverse selection of red, white and rose wines, we recommend seeking out the Alcamo wines, which come from a region southwest of Palermo. You can even find spumante wines in this region, as well as sweet wines, such as Vendemmia Tardiva. You can easily visit Alcamo on a day trip from Palermo or Trapani, each of which serves as an excellent base for a wine tour of West Sicily.
We also love the wines that come from Erice, which is a small inland town not too far from Trapani. The Erice DOC is one of the younger DOCs, having been granted in 2004; however, with vineyards climbing Mount Erice, the wines from this Sicily wine region are intriguingly dry, even though they share the same production area as Marsala, which is rich and sweet! We particularly recommend Erice Passito, which is made from Zibibbo grapes. However, you'll find that many of the white wines from Erice are made with native Catarratto grapes. The red wines, meanwhile, are predominantly made with Nero d'Avola grapes, which are also native to Sicily.
If you're thinking about a wine tour of Sicily or would like to discover Sicily's best wine regions, then you may be interested in our Sicily Wine Regions Tour. It takes you to Catania, Syracuse and Trapani, and includes a day trip to Erice. As a part of our expert and tailor-made service, we can arrange your flights, airport transfers, inter-city transfers and accommodation, and we can also arrange wine tours. For a personalised quote, please contact a member of our expert team on 01223 637331 or send us an online enquiry.
Search Keywords
Enter keywords below to perform a search within the events to find more relevant posts