Sicily Multi-centre Holidays
An island steeped in history, culturally diverse and vibrant, delicious food, idyllic weather, and stunning scenery – there's an awful lot to love about holidays in this little piece of paradise.
And that probably makes arranging your holiday in Sicily so potentially frustrating – where to start, where to stay and how to pack in the maximum enjoyment from your holiday base. So, our Sicily holidays help to bring the best of all possible worlds by providing multi-centre stays so that you can get the most from your visit.
Multi-centre holidays let you combine a number of different holidays all in a single package, allowing time for relaxation on some of the most romantic beaches in the world, to immersing yourself in several thousands of years of island history. From learning about the wide variety of cultural influences and languages to satisfying any macabre wish to tread in the steps of the infamous Mafia, a multi-city holiday to Sicily can satisfy a range of holiday tastes.
The combinations and permutations of different centres are unlimited, but here are a few multi-centre ideas just to whet your appetite.
Palermo & Catania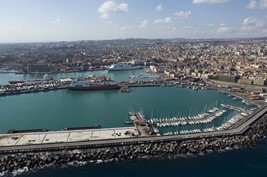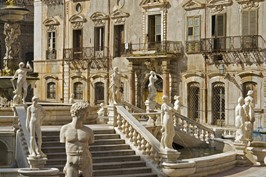 Palermo is the island's capital city and – just as you might expect – packs in an especially diverse and wide range of cultures, architecture and historical associations.
There are plenty of cafes and bars where you can take a break from your exploration of the city, and instead maintain just a watching brief as you let the rest of the world pass you by.
Catania, meanwhile, is the island's second largest city, but – like everything else about Sicily – has an entirely distinctive character and atmosphere. The ancient and the modern are thrown together in an eclectic mix that sees a vibrant nightlife and social scene rubbing shoulders with such historic icons as the Duomo and Palazzo Biscari.
Catania is also your gateway to the beautiful east coast of the island – with every view dominated by the mighty, and still active, Mount Etna volcano.
Click here to view our Palermo and Catania twin-centre holidays.
Cefalu & Taormina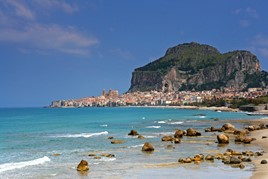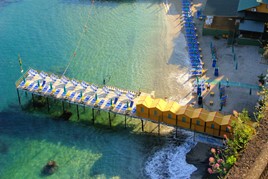 Sicily is an island for lovers too, boasting idyllic, sandy beaches and charmingly quaint and peaceful coastal villages. The air of romance is practically tangible.
Perhaps that's why a twin-centre holiday with bases in Cefalu and Taormina prove so popular with honeymooning couples. With an estimated 280 beaches in all, you have your pick of sweeping strands of golden sand, town beaches, swimming beaches and innumerable hidden coves you can claim for yourself.
Taormina, on the east coast, is probably the better known beach resort in Sicily, with this mountain-top settlement offering broad vistas across the Ionian Sea and nearby beaches.
Meanwhile, Cefalu is situated along the coast between Palermo and Taormina and is an ancient town with medieval streets, bustling shops and popular beaches, and a combination of Taormina and Cefalu gives you the opportunity to explore the diversity of different Sicilian coastlines.
Click here to view our Cefalu and Taormina honeymoon package.
Palermo & Trapani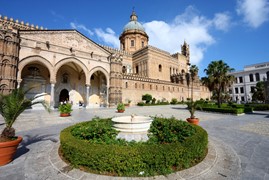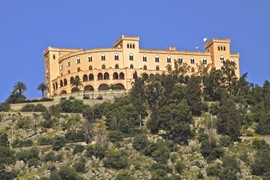 The rich diversity of Sicily and its attractions also make the island a perfect destination for a multi-centre family holiday.
By starting out in the capital, Palermo, for example, you can make sure to take in some of the essential landmarks and milestones of Sicilian history and heritage.
But with a second centre in the resort of Trapani, you also get to enjoy all the benefits of quality family time at the beach.
Click here to view our Palermo and Trapani family holiday package.
If you are thinking about a twin- or multi-centre holiday in Sicily and would like one of our travel experts to put together a personalised holiday package for you, please call a member of our friendly team on 01223 637331.
Search Keywords
Enter keywords below to perform a search within the events to find more relevant posts