Porto Empedocle: Walking in Inspector Montalbano's Footsteps
Inspector Montalbano is an Italian TV series inspired by Porto Empedocle in Sicily.
Inspector Montalbano (Il Commissario Montalbano in Italian) is a popular Italian TV series based on the novels by Andrea Camilleri. Although the series dates back to 1999, it is still shown today in the UK on BBC Four.
While the setting for the TV series is the fictional town of Vigàta, Camilleri based the location on his home town of Porto Empedocle; however, the filming of Inspector Montalbano actually takes place in other Sicilian towns, including Sampieri, Scicli, Ragusa Ibla, Modica and Comiso.
If you want to discover the scenery and culture that inspired Camilleri to write Inspector Montalbano, we highly recommend visiting Porto Empedocle as part of a Sicily package holiday.
About Porto Empedocle
Porto Empedocle is the home town of Andrea Camilleri, who wrote the Il Commissario Montalbano novels. It is a charming town on the coast of the Strait of Sicily and is not far from Agrigento, where you'll find the iconic Valley of the Temples.
The town's namesake is the Greek philosopher Empedocles, who lived in Agrigento during the Greek colonisation of Sicily. However, in 2003, the town changed its name to Porto Empedocle Vigàta as a nod to the fictional town of the Inspector Montalbano novels and TV series. The decision was revoked in 2009 and today it is once again known simply as Porto Empedocle.
Porto Empedocle Attractions
Montalbano Statue (Statua del Commissario Montalbano)
In 2009, a statue dedicated to Inspector Montalbano was erected in Porto Empedocle on Via Roma, commissioned by Italian artist Giuseppe Agnello. In actuality, the statue does not resemble Luca Zingaretti, who plays Montalbano in the TV series, but instead is an imagination of the character depicted in Camilleri's books.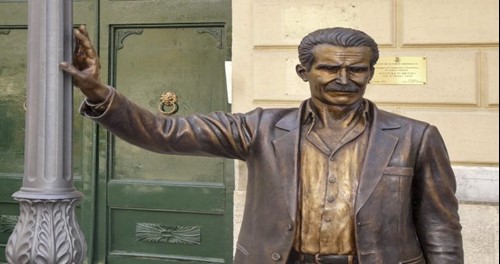 Scala dei Turchi ("Stairs of the Turks")
The Scala dei Turchi rocky cliff features heavily in the Inspector Montalbano novels and has consequently become a popular tourist attraction in Porto Empedocle. These naturally formed steps sit on the coast of Realmonte and are composed of limestone and marl (a type of white sedimentary rock).
Boasting sublime sea views and natural landscapes, the Scala dei Turchi cliff is wonderful to visit whether you have an interest in Inspector Montalbano or not!
Chiesa Madre Porto Empedocle
This is Porto Empedocle's main church and is located in the centre of the town on Via Roma. It is a stunning example of Sicilian Baroque, but make sure you go inside as the outside does not do justice to the artistic treasures that can be found inside!
The church features delicate plaster work and has a large organ, and many holidaymakers that visit inside the church say it has a peaceful and spiritual atmosphere that is particularly thought-provoking.
Tower of Charles V
If you want to discover a little more of Porto Empedocle's culture, besides its links to Montalbano, visit the Tower of Charles V, which often hosts art exhibits. The Tower sits on Via Francesco Crispi, which runs along the seafront, and dates back to the 16th century.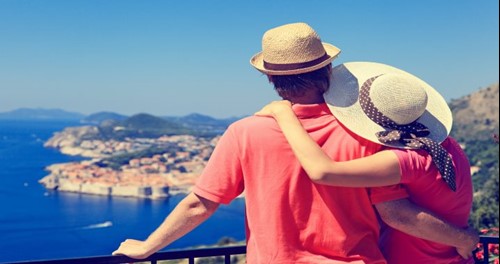 Visit Porto Empedocle
If you are a fan of the Inspector Montalbano TV series and would like to visit the place that inspired the fictional town of Vigàta, we recommend basing yourself in Agrigento and visiting Porto Empedocle on a day trip. Although the town is full of charming character, it is small and so, for the best experience, it is generally better to base yourself in the city of Agrigento to ensure there are plenty of bars, restaurants, cafes and shops that you can enjoy.
We specialise in tailor-made Sicily package holidays, including holidays to Agrigento. As a part of our expert travel service, we can arrange all aspects of your Sicily package holiday, including:
Return flights (from your choice of airport)
Private airport transfers in a luxury car
Accommodation to suit all budgets
Day tours, including a Montalbano-themed tour of Porto Empedocle
"Skip the line" entry to popular attractions in Sicily
Restaurant reservations
Car hire
If you would like to find out more about our Montalbano-themed holidays to Sicily and our customised vacation packages, please call an expert member of our team on (UK) 01223 637331 or (US) 347-594-5500. Alternatively, click here to tell us what you want from your Sicily package holiday and we will then create a dream itinerary for you.
Search Keywords
Enter keywords below to perform a search within the events to find more relevant posts