Must-sees & Must-dos on Your Palermo City Break
Palermo is the island of Sicily's capital and is well regarded for its rich history and cultural attractions, including its Gothic and Baroque architecture. If you're visiting Palermo on holiday this year and want to be certain not to miss out on the top attractions, read on for our guide to the best things to see and do.
Palermo Cathedral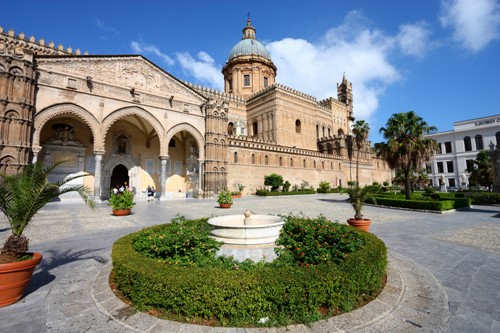 It may be obvious as Palermo's top attraction but no visit to the capital would be complete without a visit to the city's iconic Cathedral. It was originally constructed in 1185 by Walter Ophamill, but has undergone numerous restorations, with the final additions being made in the 18th century. Its style is consequently unique, with elements of the Renaissance, as well as Neoclassical, Gothic and Gothic-Catalan architecture.
If you have a special interest in religious architecture, then we highly recommend taking some time to visit inside the Cathedral, where you can admire the two chapels, a Roman sarcophagus, mosaics and a beautiful ornamental bronze gate, which closes off the chapel of Saint Rosalia.
The Food Markets: Vucciria, Ballaro' and Capo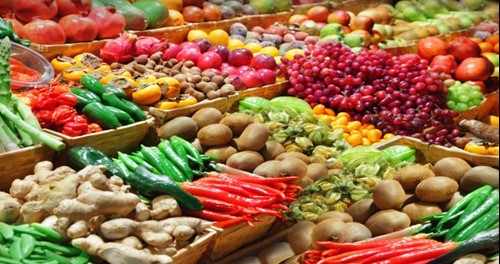 With influences from many diverse cultures, Sicily has a rich food history that is quite different from other parts of Italy, with the typical cuisine featuring sun-ripened aubergine, creamy ricotta and almonds, as well as decadent snack foods, such as cannoli and arancini. If you're a foodie then don't miss a visit to Palermo's food markets – there are three main ones (Vucciria, Ballaro' and Capo), which are within walking distance of the city centre, where you can find bustling stalls, including organic produce and local wine-makers. We recommend pre-arranging a Street Food Tour if you want to make the best of your time and, if you book a Palermo city break with us, we can arrange this as part of your package.
Teatro Massimo Vittorio Emanuele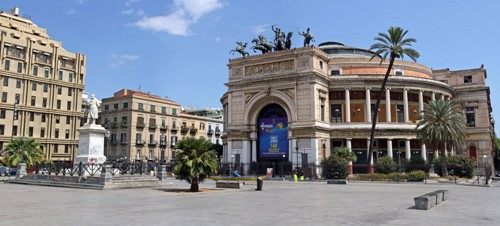 This iconic theatre on Piazza Verdi in Palermo was made famous by the Godfather Trilogy and is one of the largest opera houses in Europe renowned for its sublime acoustics.
Teatro Massimo was designed in a largely Neoclassical style by Giovan Battista Filippo Basile, an Italian architect, who also made restorations to the Cathedral in Acireale; however, as Basile died in 1891, construction was overseen by his son, Ernesto Basile, who was also trained as an architect. While the exterior is Neoclassical, the auditorium is designed in a Renaissance style and can seat 1350 people, with seven tiers arranged in the typical horseshoe arrangement around the stage.
To make the most of your visit, we recommend pre-booking a guided tour (available daily; first entry 9.30am and last entry 6pm) or even enjoying a show at the theatre – we can add opera tickets as a part of your customised Palermo package.
Palazzo dei Normanni and Cappella Palatina
The Royal Palace of Palermo, as it is also known, is a treasure trove of cultural delights, including the iconic Cappella Palatina (Palatine Chapel), which is considered one of the best examples of Arab–Norman–Byzantine architecture, with beautiful mosaics and fine painted facets to discover. It is used today for the regional parliament (the Sicilian Regional Assembly), but is also open to visitors.
Relax on the Beach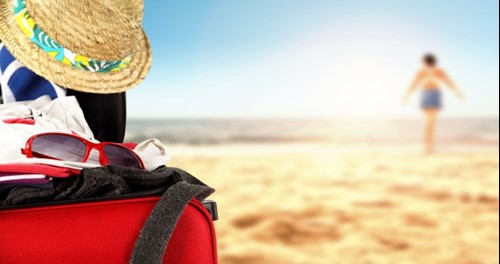 While Palermo is known for its cultural attractions and intriguing museums, you can't miss out on a day exploring one of the city's nearby rocky beaches. Here are some of our favourites:
Mondello: This is the closest beach to Palermo and is notable for its rocky features that hide secluded coves – it is particularly beautiful at sunset.
Capo Gallo Nature Reserve: This protected area is one of the most stunning nature reserves on the west coast of Italy and features glistening waters that lap against the white rocks of the beach and it is the perfect spot for snorkelling thanks to the wealth of beautiful sea life in the area.
Addaura: This is a refined rocky beach, where you'll find cocktail bars and elegant restaurants along the seafront – it's perfect for a sea-view meal out, perhaps for a special occasion or as a finale to your holiday in Sicily.
The Capuchin Catacombs of Palermo
Catacombs are ancient burial sites that can be found across Europe and some of the best-preserved catacombs still house the mummified bodies of monks and notable figures to this day, including the Capuchin Catacombs of Palermo.
The Palermo catacombs are of particular interest to historians and they are divided into separate areas for nobility, priests and wealthy families, offering an intriguing, if not somewhat macabre, glimpse back in time.
If you are thinking about a holiday to Palermo or elsewhere in Sicily, why not take a look at our selection of customised Sicily holidays? We have tailor-made packages available to Palermo and Catania, family holidays to Sicily's west coast and food tours of Sicily. With our expert travel service, we can also arrange a completely unique and customised Sicily holiday just for you. To find out more or for a personalised Sicily holiday quote, please call a member of our expert team on 01223 637331 or click here to send an online enquiry.
Search Keywords
Enter keywords below to perform a search within the events to find more relevant posts