Best Attractions in Catania
Catania sits on the east coast of Sicily, at the foot of the epic Mount Etna, which dominates Catania's cityscape. It has a wealth of cultural attractions, as well as a modern atmosphere and energetic social scene that makes it a highly desirable location for a holiday package to Sicily.
If you are thinking about visiting Catania on a Sicily city break or coastal holiday, here are some of our favourite attractions.
For Culture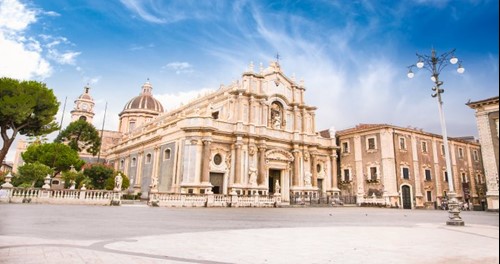 Piazza del Duomo
Cathedral Square in Catania is a wonderful Sicilian piazza to discover if you enjoy Baroque architecture, or simply if you want to enjoy the vibrancy of Sicilian life as the square serves as a meeting place for locals. The Piazza del Duomo that we know today was built in 1700 and is famous for its glorious Cathedral, which dates back to Norman times and is dedicated to Catania's patron Saint, St Agatha. Here, you can also find Catania's iconic Elephant Fountain, which is made from lava and was created in 1736. It represents Catania's diversity and may feel familiar as it is reportedly an imitation of Bernini's Minerva Elephant in Rome.
Roman Square
In the centre of Piazza Stesicoro (along Via Etnea, between the University and Via Bellini), you can glance down on an ancient Roman city, including the remains of a Roman amphitheatre, as well as the façade of a Capuchin church. The ruins are thought to date back to 300 BC and the amphitheatre was once thought to house 16,000 spectators. This is a particularly fascinating attraction for those that enjoy ancient history and archaeology; however, there are other intriguing features to enjoy here as, on the opposite side of Piazza Stesicoro, you can also see a statue of Vincenzo Bellini that dates back to 1882.
For Thrill-seekers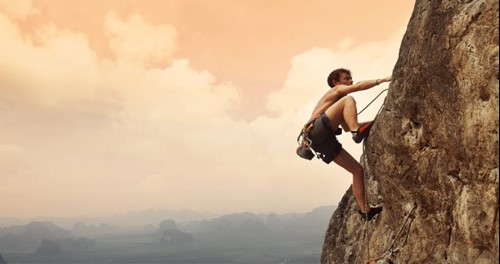 Mount Etna
Mount Etna is Sicily's resident active volcano and it frequently puts on a light show for the locals. Fortunately, the lava follows the same path down the volcano, away from the towns and cities below, meaning that the eruptions usually lead to little disruption and instead are simply incredible to witness. If you are a thrill-seeker, then we highly recommend a guided tour from Catania to Mount Etna and several options are available, such as this part-Jeep and part-walking tour of the volcano. There are also a number of more relaxing Mount Etna tours available, such as gentle walking tours around the Mount Etna foothills, which include a wine-tasting experience.
Rock Climbing
The countryside around Catania is also well regarded for the climbing opportunities, especially around Mount Etna, Taormina and Syracuse. We also love Noto for its climbing opportunities, as well as Canicattini Bagnia, which can both be easily reached from Catania on a pre-arranged climbing holiday package, making Catania an excellent choice for climbers looking for some challenging landscapes to master.
For Families

Ursino Castle
If you are visiting Catania on a family holiday, then we think you'll be impressed with the range of family-friendly activities and also the welcoming attitude of the locals. One of our favourite Catania attractions for families is Ursino Castle, which dates back to the 1200s. The castle is in excellent condition and overlooks the sea, with an inner square protected by large round towers, turrets and a moat. The castle has had a varied past, which we're sure will capture the imagination of your children, having been used as the residence of a revered Spanish family, a prison and, as it is today, a fascinating museum and art gallery.
INAF Catania Astrophysical Observatory
If you have a science buff in the family, then we highly recommend visiting the INAF Catania Astrophysical Observatory on Via S.Sofia. It is one of twelve INAF planetariums and is a hub of research into astronomy, astrophysics and geology. Guided tours are available.
For Sea Views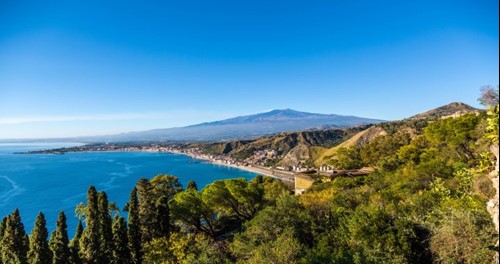 Aci Castello
Aci Castello is known in Sicilian as Jaci Casteḍḍu and is home to the remains of a Norman castle, which dates back to 1076. Today, the castle serves as a fascinating museum and offers sublime sea views; however, for particularly idyllic coastal vistas, we recommend heading to the beach at Aci Trezza, which is a region of Aci Castello. The beach is located on the coast of the Ionian Sea and permits views of the intriguing Islands of the Cyclops (Cyclopean Isles), which, according to local legend, are the stones thrown by Odysseus in The Odyssey.
Lungomare Di Ognina
This is a pretty seafront promenade in Ognina (to the north of Catania's centre) that offers beautiful views of the sea and surrounding coastal scenery. However, Lungomare Di Ognina is perhaps most famous for its black-sand beach, which is a must-see on your Catania holiday! If you enjoy shopping, we also recommend spending some time visiting the promenade's large shopping district, which is locally famous for its designer boutiques.
If you are thinking about a coastal holiday in Catania and would like one of our travel experts to put together a tailor-made Sicily holiday package for you, including all the tours and activities that you would like, please call a member of our expert team on 01223 637331. Alternatively, you can click here to send an online enquiry and we'll get back to you right away, typically within 24 hours. You can also browse our selection of Sicily holiday offers on the dedicated section of our website.
Search Keywords
Enter keywords below to perform a search within the events to find more relevant posts